Be creative!
Customisation options for your brand advertising
Customisation turns conventional pens into advertising mediums for your brand or campaign communication.
Compared to the market, we offer a maximum of personalisation options for our products to give you the highest possible flexibility in customising your promotional pens. With us, you can let your creativity flow. Our experts will advise you on even the most challenging designs. Stand out from the crowd and be bold. We will support you.
Depending on the selected product, the available imprint areas and the desired imprint motifs, our promotional pens offer various options for skilfully showcasing your company logo or campaign motto.
Screen printing
A classic printing process that is mainly used for printing on surfaces and simple round bodies. Screen printing is therefore also a common practice for personalising writing instruments.
Technology
Screen printing is a direct printing process in which each colour of the print motif is applied to the material individually and one after the other. The respective colour is pressed through a close-meshed screen with the help of a rubber squeegee.
Advantages
Optimal printing of large areas
Printing on round bodies
High ink coverage
Suitable for spot colours
Metallic effects and luminescent printing possible
Good register accuracy for multicolour prints
Particularly sharp-edged print results
Predestined for long runs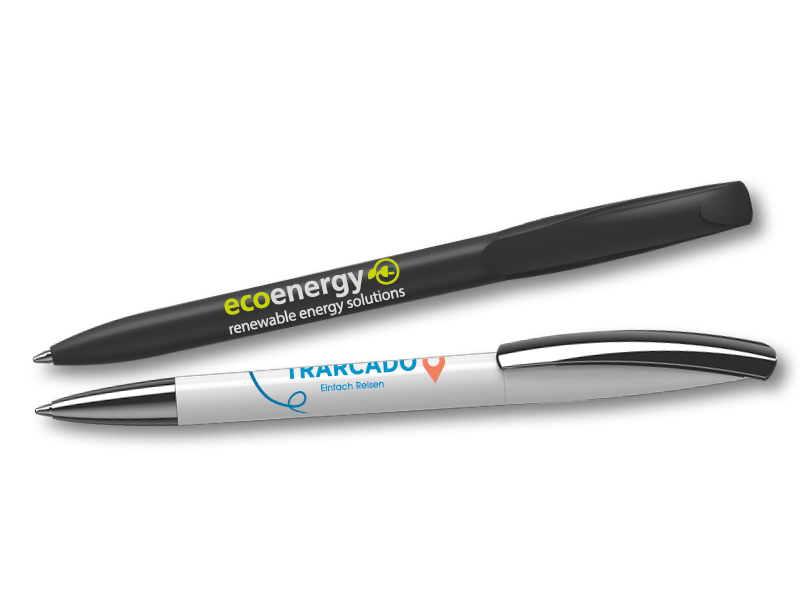 Pad printing
Pad printing is ideal for printing on uneven or highly curved surfaces. Where screen printing has physical limits, pad printing is a real alternative.
Technology
Pad printing is an indirect printing process in which the printing ink is picked up by an elastic pad and transferred to the object to be printed.
Advantages
Printing on very small and uneven surfaces
Filigree prints with fine lines and motifs possible
Printing on surfaces that are difficult to access
Large printing runs can also be realised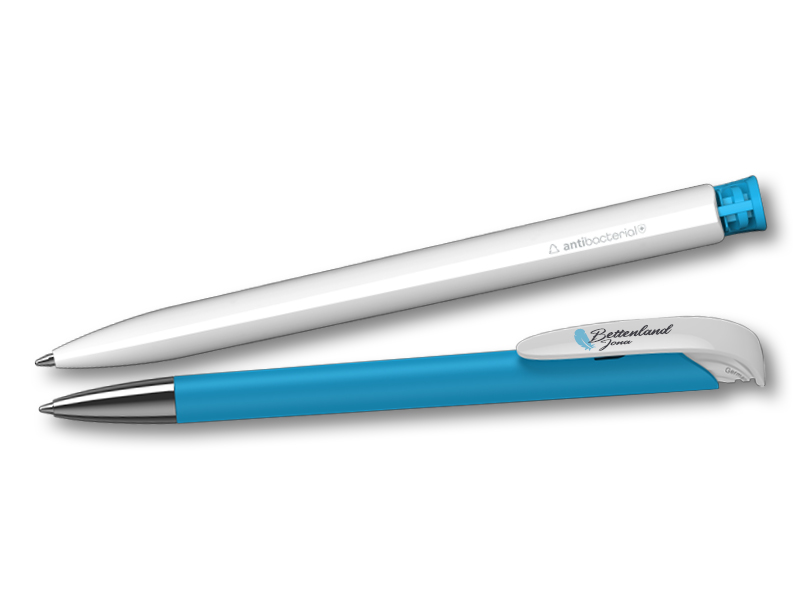 Digital printing
Digital printing is the suitable process if many colours, colour gradients or even photos are to be transferred to an object.
Technology
With digital printing, the printed image is transferred directly from a file or digital template from a PC to a printing press without having to create a printing plate as an ink carrier beforehand.
Advantages
Cost-effectiveness for multicolour printing
Realisation of colour gradients
Photorealistic motifs can be realised
Flexibility in printing size
Realisation of small and medium quantities
Laser engraving
This type of finishing is used when lettering, decorative lines or even complex logos are to be applied to metal parts of the pens.
Technology
During engraving, a laser scans specific areas on the writing instrument. This creates a tangible stamping on the surface.
Advantages
Permanent form of personalisation
Noble impression
Suitable for many materials
High precision
Filigree motifs can be realised
Large quantities also possible